Conscious Uncoupling – Katherine Woodward Thomas ( MindValley )
$399.00 (-95%)
This course contains several modules in Videos and Learning material.
The Course can be viewed online or downloaded to a pc.
This is the complete course to take your knowledge to another level.
Curso: Conscious Uncoupling – Katherine Woodward
MINDVALLEY
How To Break Negative Relationship Patterns & Open Your Heart To Love Again
What is the «Conscious Uncoupling» course about?
The pursuit of conscious disengagement is a simple 5-step process to finally heal the pain of your breakup. Very often, we leave our healing to time … But time does not heal all wounds.
Conscious Uncoupling is designed to help you heal the wounds in your heart and ultimately free yourself from the pain, overwhelming, and pain of your breakup.
You will spend around 20 minutes per day unlocking powerful healing strategies and processes with Katherine Woodward Thomas.
As you unlock each day of Conscious Uncoupling through Mindvalley's exclusive Quest learning platform, experience healing on a deep and permanent level.
Introducing Conscious Uncoupling to Heal Your Heart, Regain Your Power, and Live Happily Even After
Conscious Uncoupling is a simple 5-step method that will guide you through the process of getting over a breakup.
Whether you're fresh out of a breakup, on the brink of a breakup, or still struggling with past breakup wounds, Conscious Uncoupling will show you how to heal from the end of a relationship so you can move on in peace.
This step-by-step method allows you, with or without the cooperation and support of your former partner, to honor the love that was shared and move on, free to love and be loved again.
No matter how challenging the circumstances surrounding your breakup …
You will navigate the end of your relationship with grace, dignity, and goodwill. And you will experience deep levels of healing and heart repair.
Meet your
information about the author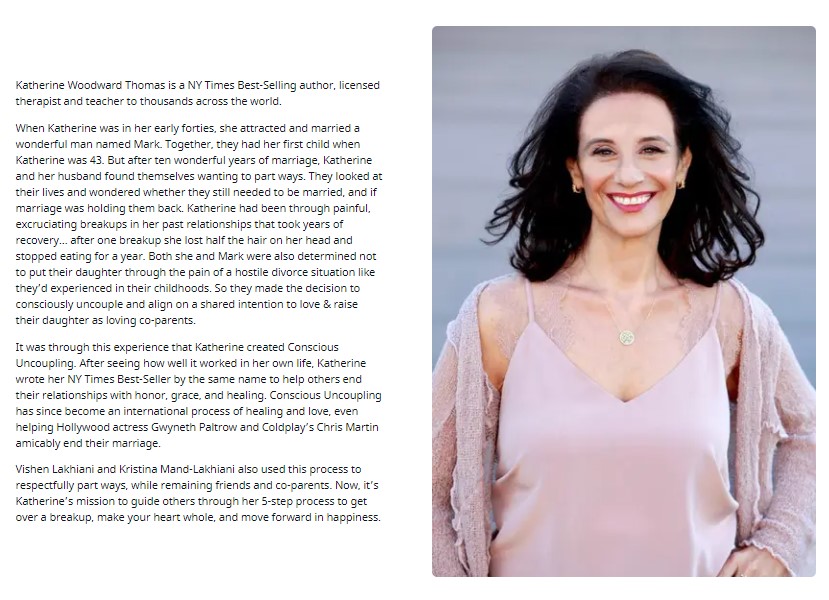 What you are going to learn
Protect yourself (and your children if you have them) from further harm
Learn to navigate your breakup with dignity, honor, and respect, with or without the cooperation of your former partner.
Resolve obsessive resentment and anger.
Use an essential tool to reach a place of true freedom and wholeness within your heart.
Wake up to your worth to love and be loved
Even if the person you love doesn't love you the way you need to, you can still claim and retain your self-worth through this 5-step process.
Come to a place of deep inner peace
Resolve your pain, resentment, guilt, shame, anger, or unresolved pain.
Graduate from any painful and recurring relationship patterns
Find out how to turn your pain into your strength and take advantage of the possibilities you have for health, happiness and well-being in love in the future.
Restore deep confidence in yourself
Learn to trust yourself in love and decisions again, knowing that you will never make the same mistakes again.
Awaken your power for true happiness in love.
Discover authentic forgiveness for yourself and others so that you can enter your next relationship free of past hurts.
Conscious Uncoupling Curriculum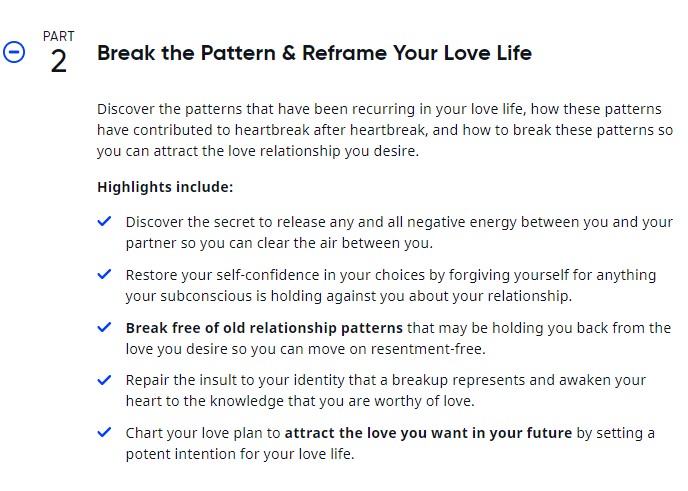 Did you know?
On our cursoscompletos.vip page we have the best internet courses that are valued in thousands of dollars, but today you can have access to these courses at a super discounted price, that is why we say courses at auction so that you do not stop investing in your knowledge and at a low cost.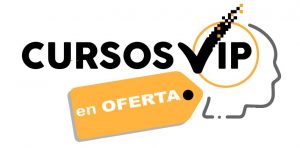 packs de cursos premium en super oferta aqui:  graficursos.com